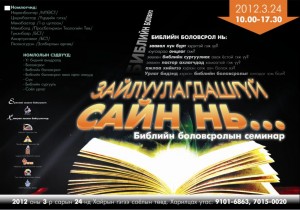 'There is need of only one thing.  
Mary has chosen the better part,  which will not be taken away from her.'
On March 24th, from 10.00 until 17.30, an exciting day seminar on Bible Education entitled 'The better part, which will not be taken away'* is being organized at First Church, near Sunday Plaza. Mongolia TEE is the general organizing body. Others involved are the Union Bible Training Centre, the Presbyterian Theological Centre, the Theological Commission of the Mongolian Evangelical Alliance, Everlasting Dawn Church, First Church, Christ Church, House of Prayer Church, and Bridge Builders' Praise Ministry.
*this phrase, from Luke 10.42, referring to Mary's choice to sit at Jesus' feet as a disciple and hear his word, translates just three Mongolian words
Speakers at the seminar will be:
1.      Naranbaatar, Mongolia TEE Director
2.      Tsetsenbaatar, Everlasting Dawn Church Senior Pastor
3.      Munkhbaatar, First Church Senior Pastor
4.      Munkhbold, Presbyterian Theological Centre Dean of Studies
5.      Tumenbayar, Union Bible Theological College Dean of Studies
6.      Amartungalag, Union Bible Theological College teacher
7.      Lkhagvasuren, House of Prayer Church Senior Pastor
We will be addressing the following questions:
1. Is Bible Education really necessary for everyone?
2. What makes Bible Education different from other forms of education?
3. Is it absolutely necessary to gain Bible Education from a Bible College?
4. Is Bible Education really only a concern of church pastors and leaders?
5. Is it possible to gain Bible Education while still in full-time work?
6. How might art and music play a role in delivering Bible Education?
If you would like further details, please contact 70150020 0r 91016863.