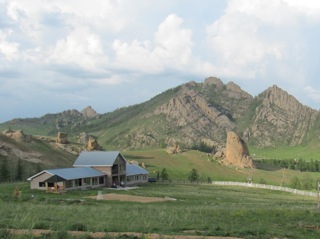 The Mongolia TEE annual Facilitators' Training Camp for those leading groups studying the Certificate in Christian Ministry took place between July 4 – 6, 2012 at the Secret of Nature holiday village in Terelj, well-known for its beautiful scenery.
There were around fifty tutors from more than thirty churches participating, and it was a great time for fellowship and learning from one another. The facilitators were able to share the difficulties that they were experiencing in their groups, and share ways to overcome them.
This year's programme gave special emphasis to a number of topics:
First, how to prepare well for each group meeting. A model lesson plan was given out, followed by a practice session where participants took turns to facilitate part of a group meeting.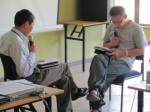 Second, the importance of the annual character and ministry evaluation. Training Coordinator gave a model of how to complete the evaluation with Gantulga, from Choibalsan playing the role of a student.
Third, the reasons why a group may stop meeting before completing a course. Different kinds of reasons were discussed under the heading of reasons connected with the students, the tutors, the church leadership, and the Mongolia TEE administration.
Fourth, possible development of different packages of courses to meet the needs of different groups within the church, e.g. for small group leaders, or those in evangelism and church planting.
Of special note from the contributions: 'We see real change in the lives of new believers, and those wanting to be more effective in ministry through the systematic TEE program – but it would be more effective still if the church leadership were more active in support.'
As well as good discussion and worship, the participants enjoyed a volleyball and table tennis tournament, and some great singing and dancing together.
This time together was full of encouragement, the Word of God and fellowship. We wish each and every facilitator a rich and fruitful ministry!